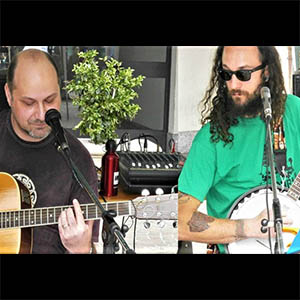 Born in 2019 as a spin-off of the folk bands 'The Lepricorns' and 'The Roustie Harpuins',Wester Ross duo intends to explore the universe of folksongs at 360 degrees, starting from the ancient Scottish ballads and Irish singalongs, and then jumping forward to the 60's folksingers (Bob Dylan, Simon & Garfunkel, Cat Stevens, The Beatles etc.), trying to find common features to these different situations, but also adding a very intimate 'personal touch' to the songs recorded in studio and, most of all, to the live performances. Even if Wester Ross duo was born only in 2019, its members Davide De Finis Amato and Riccardo Ampollini had already exhibited together in many gigs, pubs and folk music festivals, and also, with The Lepricorns, completely acoustic in a very special venue: a natural arena, 2000 metres above sea level, on the Italian Alps! Launched on the occasion of the St. Patrick's Day, the first Wester Ross' Cd named 'Folksongs' is available online since March 2020, published by the Italian Way Music label ( www.italianwaymusic.com ). This new record will be soon presented in live shows and 'on air', like at Giuliano Nava's 'Olly night' on Radio Popolare, and Gino Granata's 'An Triskell' on Radio Città Bollate (Milan, Italy). The Cd was recorded and mixed in the "Blue Studio" of our dear friend John Toso, pianist, singer and composer ( www.johntoso.com ). The record consists of seven traditional Scottish and Irish folksongs, and even of three more famous songs rearranged in a perfect Wester Ross style: Mr.Tambourine Man (Bob Dylan), Lady D'Arbanville (Cat Stevens) and Norwegian Wood (Lennon/McCartney). Moreover, the songs 'Wae's Me for Prince Charlie' and 'Wild Mountain Thyme (Will Ye Go, Lassie, Go?)' feature Mattia Binda Rossetti, low whistler and especially (Scottish) bagpiper, from the bands 'Green Circle' and 'The Lepricorns'. Mattia, with other long-time friends will be guest stars in the next coming Wester Ross live shows.For example, you can listen and buy our new record online at: https://play.google.com/store/music/album/Wester_Ross_Folksongs?id=By2lnksbnvmvplb5e7k5xsobkp4 https://it.7digital.com/artist/wester-ross/release/folksongs-11277888
WESTER ROSS ARE:
Davide De Finis Amato (stage name: Dave Redwood): lead vocal, 5-strings banjo, guitar, tin whistle, harmonica. Born in Milan in 1990, he started to play music, and sing, approaching punk-rock and grunge. He next landed on punk- hardcore, joining punk-HC/grindcore band 'Rejekts', currently in full swing. During this journey, Dave also grew up his love for Italian folksinging, until he discovered traditional folk music, Irish and Scottish in particular. At that stage, in addition to guitar, he approached other instruments as well: first 5-strings banjo, then tin whistle and tenor banjo. Dave made a lot of choir singing experience with a Sea Shanty specialized band, 'The Roustie Harpuins'; he then collaborated in some concerts with 'The Lepricorns' since 2018. From the meeting with these last ones, and mostly with the singer Riccardo, arose the idea to give birth to 'Wester Ross' duo.
Riccardo Ampollini: guitar, backing vocals, lead vocals in some songs, percussions, Irish bouzouki. Born in Milan in 1969, he began playing guitar when he was 13, with the teacher Vito Plumari, graduated at Milan's Didactic Centre Filippo Daccò. Riccardo then pursued his studies with Plumari until he was 28, occasionally playing with his teacher in the pop music band 'Quarta Dimensione'. In 1995 he joined the 100-guitars symphony 'An Angel Moves Too Fast to See' by the American composer Rhys Chatham, playing at Milan's Smeraldo Theatre, and, in the same year, he studied with Joe Diorio at Tirano Jazz seminars. He played with the saxophonist Ivano Tagliabue's jazz big band and quartet, and in some other little jazz bands, contributing also to a live tribute project to John Scofield and Pat Metheny: 'The Jazz Machine'. Approximately from 1993 to 2004, Riccardo played mainly in the 'Higgy Baby Rock'n'Roll Band', gaining experience in every kind of live music club and concert; nowadays they still play together in occasional reunions. But it is Irish and Scottish folk music that gives Riccardo special emotions as singer and guitarist of 'The Lepricorns', born in 1997 and his current band, together with Wester Ross. He arranged the traditional Irish and Scottish songs and dances published on the first three Lepricorns' records, released by Ecosound and Italian Way Music (IWM). Finally, Riccardo wrote various songs in Italian and instrumental tunes; some of them were used as the basis for the first Lepricorns' album sung in Italian, 'La Figlia del Vento', released in 2010 by IWM.