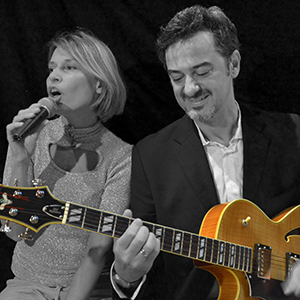 The Duo Asiani Zinni is the starting point of a journey. Two friends and fellow adventurers perform classical and modern studies separately; they meet, confront each other and start to travel together, thanks to the love for jazz, a personal and musical journey characterized by the discovery of a common language through improvisation. The pieces are addressed looking for arrangements that allow the most complete freedom of expression; the intent is to arrive at unpredictable solutions by seeking, in each step, to create ever new musical and emotional discourses. Together they performed, in various formations, in Italy and abroad, taking part in important events such as "Metropolis Jazz", "Franckfurter Musikmesse", "Concert Season of P.A.C." di Milano. Ha opened the "aperitifs in jazz" season of the Teatro di Gallarate in 2016 and 2017.
Sabrina Asiani , singer, she graduated from the Civic Jazz Courses of Franco Cerri and Enrico Intra in 2000, addressing the study of vocal technique with the jazz singer Francesca Oliveri. He studies complementary piano, harmony, song and gospel choir. During these years he participates in various jazz events as a soloist and choir performing in various clubs in Milan and participates as a singer in various formations at Iseo Jazz shows. From 2000 to 2007 he privately explores with vocal coach Luca Jurman vocal technique and soul language and in the meantime he sings in various bands. He is currently studying piano with Maestro Mario Gagliardi. The aim is to face piano improvisation to improve the vocal improvisation; the aim is to acquire more harmonic and rhythmic fluency, also deepening the language of be bop through the study of the dynamics in the phrases.
Saverio Zinni guitarist, graduated from the Music Profession Center, he continued his jazz studies with Maestro A. Mancinelli. Lover of music in its most varied forms, has long collaborated with groups and musicians with whom he practices different musical genres. The deep passion and the continuous study of the various forms of jazz, lead him to careful choices and decidedly "unconventional" on the level of sound and harmonization, managing to give an incisive and personal impression to the songs, even the most "unusual" . He took part in important musical events in Italy and abroad ("Metropoli Jazz", Frankfurter Musikmesse, concert season of P. A. C. of Milan, Expo 2015). .